Smiling spontaneously is great both for the giver and receiver!  The other day I was in line at Costco waiting my turn to pick up probiotics and a darling little girl was playfully talking with her daddy. I immediately found myself grinning from ear to ear … as was the lady in front of me and we met eyes and laughed and talked about how a little child can sure make you smile!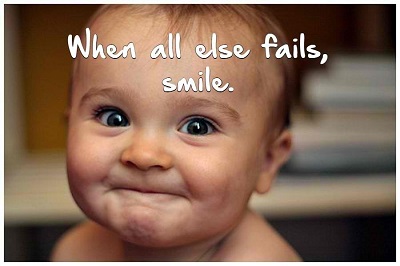 Isn't that true? All I have to do is think about the antics or sweet faces of one of our grandsons and I smile alllll alone in my writing chair! Or I think about one of the many people I love and I can't help but smile. Why just recalling  the smiles of people can cause me to smile!
What is a smile according to Google?  "form one's features into a pleased, kind, or amused expression, typically with the corners of the mouth turned up and the front teeth exposed." Sounds pretty sterile and clinical, right?
In truth, spontaneously smiling not only is great medically, psychologically and emotionally for us … it is also part of our relationship with God … He created this amazing feature.   
What does the Bible say about smiling? Well, lots about joy and rejoicing which cause one to smile but yes, it talks about smiling too! God smiling and us smiling!
Job 9:27 "If I say, 'I will forget my complaint, I will change my expression, and smile,"
Psalm 119:135 "Smile on me, and teach me your laws."
Psalm 31:16 "Make your face shine on your servant; save me in your steadfast love!"
Psalm 4:6 "Many people say, "Who will show us better times?" Let your face smile on us, LORD."
Proverbs 15:30 "A cheerful look brings joy to the heart; good news makes for good health."
Proverbs 15:13-15 "A glad heart makes a happy face; a broken heart crushes the spirit. A wise person is hungry for knowledge, while the fool feeds on trash. For the despondent, every day brings trouble; for the happy heart, life is a continual feast."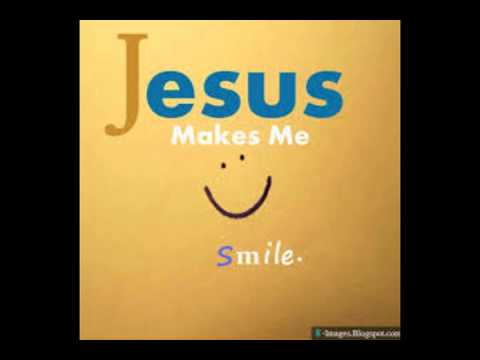 Let me tell you a story about a childhood goal.  I remember my dear grandfather to be a very quiet, tall Irishman who smoked a pipe. He rode a large sorrel-colored horse, loved strong coffee (Yep! Its' genetic for me!), loved his family … cattle … and growing and harvesting hay. He was a man of few words but always had juicy fruit gum in his pocket for us grandkids plus a Hershey bar (Is that why I LOVE chocolate?).  One of my favorite things to do was … to try and get my Grandad "Daddy John" to smile.  I remember very specifically working each time I was with him to illicit a smile from my Daddy John. It was a successful day to me as a child if I was able to do so! He was not stern … the opposite … very compassionate and gentle and generous. He just didn't smile much! This was a challenge which I, and a few of my cousins, set out to help him with! Oh, those Irish eyes would twinkle when he did!
Another glimpse into my story as a breast cancer survivor:
 As a young Mom, fairly new to California, I ended up at an oncological surgeon in Beverly Hills, California more often than I wanted to. I had many lumps which need to be tested and removed and tested for possible breast cancer. I was there in Beverly Hills walking down Rodeo Drive more than I had ever imagined necessary or possible back when I was a child on our ranch even when I participated in actual rodeos. (I loved my horse Lady and competing in barrel racing!)   When I was walking out of the parking structure to head to the oncological surgeon's office on Rodeo Drive I often played what I thought was a fun game …probably to get my mind off of being tested for cancer. I tried to get people in busy Beverly Hills … as I walked, or ate lunch or in the waiting room for the doctor … to make eye contact with me and SMILE!  This was not always easy let me tell you! But it kept me entertained and doing something positive to brighten my day and any unsuspecting person I might engage with. More than once I was able to share about my faith with people in Beverly Hills just by offering a SMILE, eye contact and whala (!) God provided some opportunities!  
You know it's a fact that smiling lowers stress, lowers blood pressure, strengthens your immune system, lessens pain, puts you in a better mood and smiling is contagious!
Ever have a day that you are just plain sad? I do! If you or I CHOOSE to smile often … it truly lifts your mood! Take a walk and listen to the birds (smile), listen to worship music (sing and smile), call someone who needs to hear your voice or drop them a note (smile while you do so … they can tell)! Sit down with God's Word and sit with a verse or a chapter that lifts your heart (smile at God!).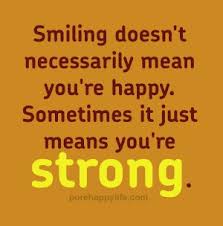 CHOOSE to:
Be Grateful (write down 3 things per day you are grateful for)

Allow yourself to be joy-filled and smile! My 5th and 6th grade teacher Mrs. Nickell used to say "Kids, you draw more bees with honey than you do with vinegar."

Reach out and love God and love others (Mark 12:28) smiling as you do so! It lets them know your love and service is coming from an authentic place.
These things always help to get your focus away from yourself and your challenges … and re-focus them on the Lord as well as how you can be a blessing to others! This I can promise!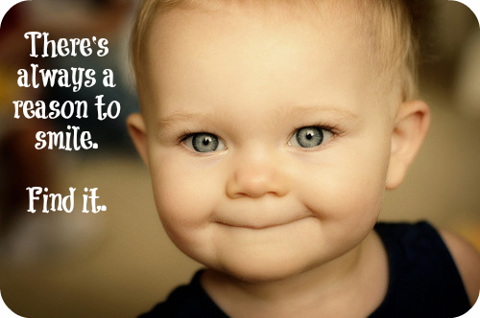 In the blog post "The Science of Smiling: A Guide to The World's Most Powerful Gesture" by Leo Widrich he has some fascinating information. I'm sharing a little bit here but if you're interested it is a fascinating read!
"The smile is the "the symbol that was rated with the highest positive emotional content" concludes scientist Andrew Newberg (quote).

Quote: Mother Teresa "We shall never know all the good that a simple smile can do."

Smiling stimulates our brain's reward mechanisms in a way that even chocolate, a well-regarded pleasure-inducer, cannot match.

Smiling then, seems to give us the same happiness that exercising induces terms of how our brain responds. In short: our brain feels good and tells us to smile, we smile and tell our brain it feels good and so forth.

Smiling reduces stress that your body and mind feel, almost similar to getting good sleep, according to recent studies. And smiling helps to generate more positive emotions within you. That's why we often feel happier around children – they smile more. On average, they do so 400 times a day. Whilst happy people still smile 40-50 times a day, the average of us only does so 20 times."
The author even sites that women smile more than men, that you can practice an authentic smile and more! Great read!
Babies and children make us smile and baby animals often do so as well! Photos of people we love … like the ones in many places in my home … or on your Facebook page or in our memories bring a grin to our faces.  A joke or a funny movie or cute antics of your pet or kids or grand kids bring Texas-sized grins to our faces … or we laugh out loud! I urge you to freely give your smile … don't hold back! Go ahead! SMILE!
We often make choices to smile or not to smile and to connect to other people. This is the one thing that is the same in every language … a smile!    Giving a smile away is FREE, might make someone else's day and it takes less muscles in our faces to smile than to frown.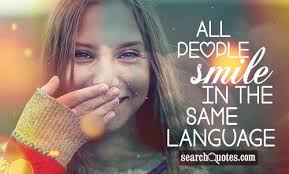 Why not spontaneously smile, not just in your heart when something blesses you, but smile at those you love, smile at those you don't know, smile when the Lord touches your heart … just make it a habit to SMILE!  
Coaching Moment

:  God tells us in Philippians 4:8 to focus on "… whatever is true, whatever is honorable, whatever is just, whatever is pure, whatever is lovely, whatever is commendable, if there is any excellence, if there is anything worthy of praise, think about these things."
If we are obeying this Word from the Lord on what to focus our thoughts on  … how can we help but smile spontaneously?
I recommend that you purposefully put IN to your heart, mind, spirit and life things that bring a smile to you … including Scripture!
Coaching Resource: The 4:8 Principle … The Secret To A Joy-Filled Life" by Tommy Newberry.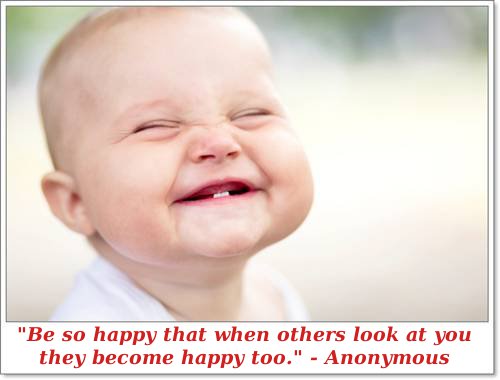 Many Blessings and Keep Smiling Spontaneously!
Coach Kathleen
Master Certified Christian and Professional Life Coach
www.PersonalRetreatCoaching.com