A few weeks ago when I went to visit I took a book on Prayer to give our grandsons. As we snuggled on the couch and read the book together, which essentially told little ones that they could and should pray ANYWHERE, I had to wonder if we adults might need a reminder on prayer as well. (Peter's Perfect Prayer Place by Stephen Kendrick, Alex Kendrick and Daniel Fernandez).
Prayer is needed today in more ways than it seems we can count. Prayer is on the minds and hearts of Believers all over the world and I believe the Holy Spirit is urging us to come to the Father in prayer more than ever in my lifetime!
As I was watching a Christian news program yesterday those in a small village in Syria whose lives had been attacked by ISIS because they are Christians asked if we would pray for their hope and the hope of all of those in the cross-hairs of the terrorism happening. This is happening to them, their families, their churches and others in their area of our world. Oh, my … may I also say … we need to continue to pray for their protection and that of all innocents from this cancer they call ISIS and other terrorist groups … with another horrible example yesterday that we saw in a restaurant in Israel. Unbelievable.

On my flight back from Colorado I sat next to a delightful sister-in-the-Lord who shared her life and prayer needs with me. As I offered to pray (and have and will continue as the Lord brings her to mind) … she asked how I could really remember to pray for her when all the needs of the world are SO great and overwhelming at times. True, right?

All you have to do is to tune into our political challenges of our precious country the USA right now and we have ample to pray about! (Please do!)

As Christians we are in "the cross hairs" of the enemy of God. Please don't be complacent … satan IS after Believers / Christians / followers of Jesus no matter where they live. You are in the battle whether or not you realize it. Be alert.
Above you see a basket FULL of tomatoes which I harvested today! (water bottle is there for size perspective)   We have a massive tomato plant that is happily producing its beautiful fruit! What does this have to do with prayer?   Well, as I was picking away this morning, piling tomatoes into my shirt tail to carry them, I was thinking about the subject of prayer.  Just as the tomato plant is loaded with much fruit … the subject of prayer is one topic way too big to address in one sitting.  Although this Gentle Nudgings is not meant to be exhaustive on the subject of prayer let's "talk" together about some interesting and vital prayer basics … I encourage you to read on! 
Well let's talk about it … What is prayer?
According to David D. Ireland in his book The Weapon of Prayer: Maximize Your Greatest Strategy Against the Enemy  "Prayer is conversation with God. Through words, thoughts, and even gestures God hears our request. In fact, He says of His people, 'Before they call I will answer; while they are still speaking I will hear.' (Isaiah 65:24).
God promises that when we pray He listens. This word listen in the Hebrew –the original language of the Old Testament scriptures—means 'to listen attentively. Pp 34-35"
Wow … can you imagine? Think about it! Our Father, the God of the universe, is listening attentively to you and I! All we need do is to talk to Him!
Wow … another simple, profound and crazy concept! If we CAN talk to Him anytime, anywhere (like I discussed with my wee grandsons …) then why don't we? To have a relationship with ANY human being we have to take the time to talk right? Yes, we need also to listen to Him as the Holy Spirit through His Word. But … even simpler … we need to TALK to Him aka PRAY!
We have full access to the One who is sovereign over every single thing that happens on this planet and in our lives … and yet do we go days or even minutes between our discussions with Him bringing our aches, urgings, exclamations and joys before Him? He's our Father and He wants to hear it all!

Another insight from David Ireland (can you tell I was reading this book via my Kindle on my trip?) was that "Prayer is powerful because it is the language God responds to. He invites prayers. He welcomes prayer. He is moved by prayer. He responds to prayer.
Just as English is the official language in the Unties States, prayer is the official language of heaven.
He created prayer. He instituted prayer as the vehicle whereby we can speak with Him and even ask Him for help.
Prayer gives you an audience with almighty God. You have direct access into His throne room." (The Weapon of Prayer: Maximize Your Greatest Strategy Against the Enemy pp. 35-36-)
Check it out!
Jeremiah 29:12- (ESV) "12 Then you will call upon me and come and pray to me, and I will hear you. 13 You will seek me and find me, when you seek me with all your heart. 14 I will be found by you, declares the Lord, and I will restore your fortunes and gather you from all the nations and all the places where I have driven you, declares the Lord, and I will bring you back to the place from which I sent you into exile."
Based on these scriptures and ideas here are some coaching thoughts on Praying Faithfully:
Pray without ceasing (1 Thessalonians 5:17) which indicates constant dialog! In our hearts, minds and even out loud as we can we are able to be in constant communication with God the Father (Think of it …in His throne room He's listening to you!)
Instead of being anxious about what you see on the  TV news, your smart phone, in your family life, business or church family, etc. come into the throne room and talk to your Father who is listening!
Philippians 4:6- (ESV) "6 do not be anxious about anything, but in everything by prayer and supplication with thanksgiving let your requests be made known to God. 7 And the peace of God, which surpasses all understanding, will guard your hearts and your minds in Christ Jesus."

Be strategic! Are you busy (need I ask J? ) As with anything else in your life sometimes we need to write things down to actually make them happen! I like to journal my prayer requests but then again … that is impossible in many respects because of the number. So … I do journal them and I do list them but I also do work on praying immediately when I offer to pray for someone or if the Holy Spirit nudges on my heart regarding a need so I don't forget.  
Prayer is a weapon … one Jesus Himself chose to use prayer specifically when Satan asked to sift Peter as wheat. (Luke 22:31-32). The last words He uttered in Luke 23:34 on this earth were a prayer to His Father. If Jesus reached for this weapon against the enemy although He could summon legions of angels at His beck and call … we need to treat seriously our ability as children of God to summon His help by prayer. It is more REAL than the seat you are sitting on reading this.
The battle IS happening! Are you "In?" Whether or not you and I are geared up, paying attention and being proactive in the battle or not … it is obviously happening all around us. Lest you are frightened to engage in the battle … may I say that it is much safer to be equipped and be praying offensively and defensively than pretending that the battle is not raging around you as a Believer. Muscles in our bodies become atrophied without use … so goes our spiritual "muscles" and the ability to act and react instinctively as children of the living God. If we know Him …. Prepare in His Word by reading and studying (listening to Him) then we pray strategically throughout our day about the little things and the big things … we are being guided by His Holy Spirit to do His bidding for His glory. Nothing is too little nor too big to bring before our Father  … He is interested in it ALL … just as you and I are with our own children and grandchildren, right?  
Are You Stuck? How do you pray if you are stuck or maybe just beginning this spiritual discipline?
Try this … The Navigators Ministry in college taught me a useful acronym ACTS: A for Adoration, C for Confession, T for Thanksgiving and S for Supplication (others requests as well as your own)     
Pray faithfully is a rich, full and deep topic for which we can only scratch the surface today.  But just like a piece of rich, dark chocolate cake from my Great-grandmother Lolly's hands (you wouldn't believe how delicious those memories are!) pick up the fork and allow yourself to get started one teensy bite at a time! You will discover (or rediscover), as have I, the absolute DELIGHT of conversation with our Father. He truly answers my prayers in amazing ways … sometimes before they ever even come to complete request. I have seen actual miracles from His tender and generous hand over and over and over.
Being self- disciplined dear Sister in this and every other area of our life … spiritually, mentally, emotionally and physically … takes work and effort.  I continue to remind you as a coach that the word DISCIPLINE, contrary to our culture, is actually important to forward momentum! Coaching is all about forward momentum … sometimes two steps forward and three steps back … but don't stop moving forward!
Two great quotes for your month of June:
"Most people overestimate what they can do in one year and underestimate what they can do in ten years." – Bill Gates
"It is the same with people as it is with riding a bike. Only when moving can one comfortably maintain one's balance." – Albert Einstein                  
Pray Faithfully! Keep riding the bike! Don't worry about seeing immediate results but continue to be faithful in bringing your requests to God. (Remember Phil. 4:6-7). Trust Him … He is sovereign. Relax in His love … He sees and knows the beginning and the end. Be prepared and ACTIVE as a prayer warrior on the frontlines, putting on the armor of God (Ephesians 6; 10-18) (I suggest you memorize this!).  You are in the battle anyway …be determined and disciplined to be engaged!
Some of my most personal tender times of prayer have been in the wee hours of the morning as I prayed for several hours in a stretch, and as I walked many many miles in preparation for the marathons … and on rare occasion  … when I have prayed all night. The delight of His presence is palpable and an honor and … is available to each of us. We need just tip-toe into the mighty and tender loving throne room of our heavenly Father and talk to Him!
 Coaching Prayer Resources I recommend:
One of the most popular Christian movies of the year (my opinion) is War Room which is another box office hit by Alex and Stephen Kendrick. A must see! (Available on DVD)
Bible studies center around it like The Armor of God (Priscilla Shirer) or The Battle Plan for Prayer: From Basic Training to Targeted Strategies (Stephen and Alex Kendrick).
There are many books on prayer … my favorite of late as you can tell is The Weapon of Prayer: Maximize Your Greatest Strategy Against the Enemy by David D. Ireland.
One last thought … you remember my little dog Ber, right?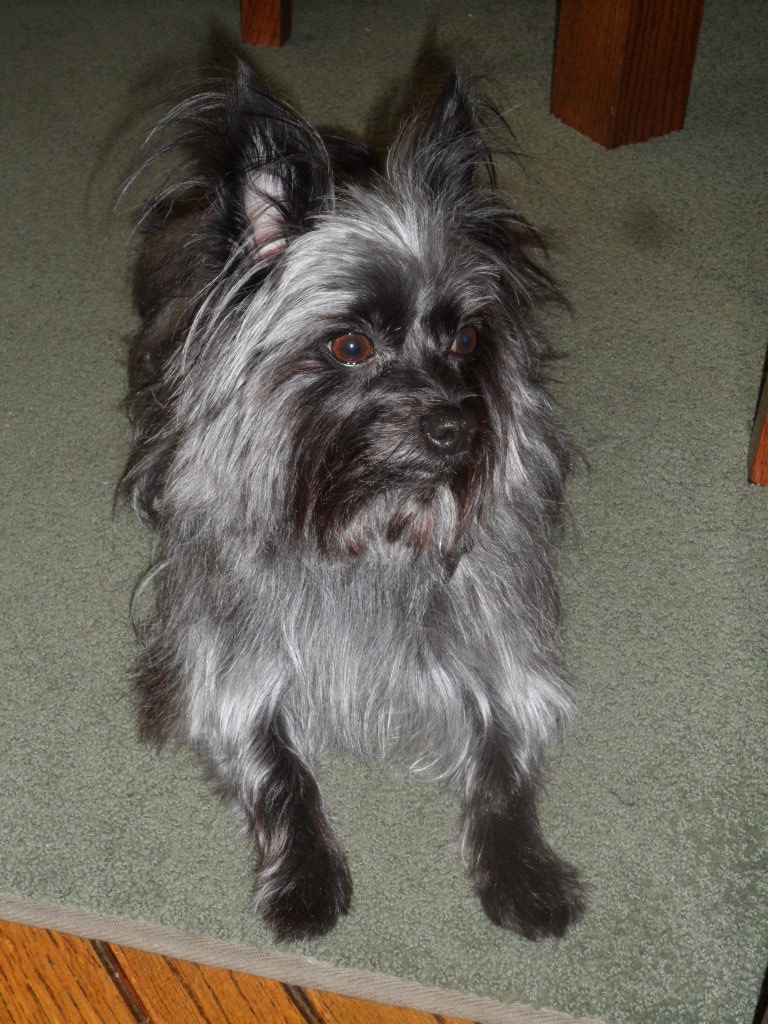 Well, today on our walk he was doing his normal pulling against his leash when he decides he wants to visit this, sniff that, etc. I was becoming a bit frustrated when I thought …" I wonder if this is how the Lord feels when I attempt to pull Him here and there in my prayers instead of "prayer-listening"?  All we can do is ask what we believe would be consistent with Biblical principles in prayer and then we need to REST in His will … not pulling against the proverbial leash. He is sovereign and He is to be trusted and we are to surrender to His loving plans for our lives.    A  final thought for today  :).

Let's pray faithfully together! "Where 2 or more are gathered …" Matthew 18:20!
PS … Need prayer? I would be honored to pray for you! Just reply to this email!
PPS … On a personal note I have just returned from an amazing road trip with my Mom and sister Dianna to Branson, Missouri!  Thank you for those of you praying for our safety over the hundreds of miles we drove! We had a great time together … laughing and going to musicals, comedies and shows of different kinds. We shopped :), we did devotions together, we watched DVDs (Letters of Mother Teresa and Ruth Bell Graham … both great!), etc. So I think our topic of Praying Faithfully is perfectly fitting for many reasons on my heart!
Blessings,
Coach Kathleen
Master Certified Christian and Professional Life Coach